The Fab Four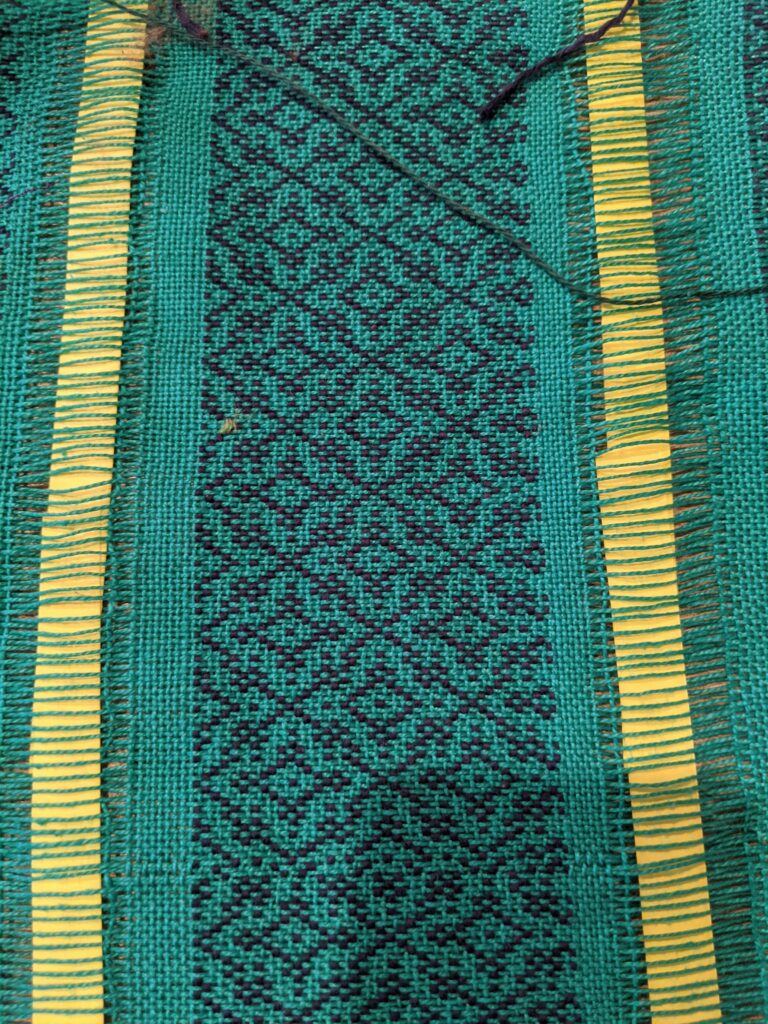 The Beatles are not the only "Fab Four." Four-shaft looms are fabulous and frequently underestimated for their potential and versatility. Much of this value may be found in uncommon weave structures that are capable of producing distinctive and remarkable results. In this round-robin workshop, weave structures explored will include, but are not limited to: Diversified plain weave, integrated weaves, swivel, single block bead leno, corduroy, Bedford cord, deflected supplementary weft, and cannelé.
Dates: March 9-10, 2020
Instructor: Robyn Spady
Location: Salt Fork Center at Homer Lake
Further Details: visit class page
Block Party
Do the terms "block design" and "profile draft" bewilder you? Are you interested in developing new patterns and pushing your loom to new limits? Whether you have a four-shaft loom and want to expand its potential or want to better understand what to with all those shafts, then this workshop is for you! Through presentation, discussion, and weaving, you will develop a practical understanding of blocks, profile drafts, and how to use them to create new exciting drafts. You will also examine the fundamental building blocks of many weave structures and how they can be manipulated into new designs and open up an unlimited number of new possibilities. Minimum four shaft loom required. (Note: This is not a round-robin workshop)
Dates: March 11-12 2020
Instructor: Robyn Spady
Location: Allerton Park & Retreat Center is located at 515 Old Timber Road, Monticello, IL 61856.
Further Details: visit class page
One-of-a-kind Jacket class with Mary Sue Fenner
This three day class takes participants from selecting and altering jacket patterns appropriate for chosen fabric, to techniques for sewing and finishing hand woven fabrics.
Instructor: Mary Sue Fenner is a retired instructor, at Northeast Wisconsin Technical College, Green Bay, WI. She is noted for use of bright colors and her own handspun yarns, her clothing and accessories are seen in area shows, galleries and shops, and featured in Handwoven, Shuttle, Spindle & Dyepot, Belle Armoire, Altered Couture, Sew Somerset and Haute Handbags. A Clothing, Textiles and Design major at U. WI-Stout, art studies at Newcastle-Upon-Tyne Polytechnic, England, Kansas U., Viterbo University and a UW-Milwaukee Masters gave Mary Sue an excellent background in fibers.
She teaches weaving and garment making classes at Sievers School of Fiber Arts, since 1979.
Dates: Friday October 4th – Sunday October 6th, 2019
Location: Threads of Time Creative Sewing and Retreat Center is
located at 207 S Buchanan St, Danville, IL 61832
For more information please see class details
Designing Cloth on a Rigid Heddle Loom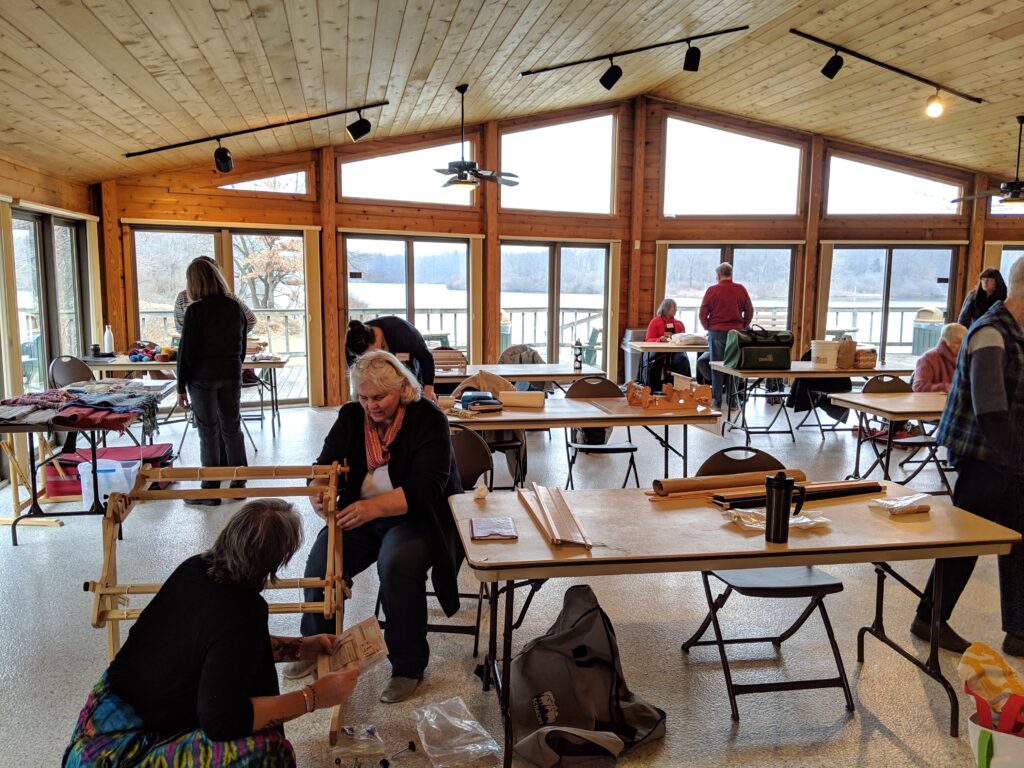 The modern Rigid Heddle loom is the ultimate sampler and cloth creating loom. In this workshop you will learn how to create texture and pattern using handspun, weaving yarn, and knitting yarn in the same piece.
Rigid Heddle looms are not new but the method for warping is a recent development by Ashford especially for knitters. The method, called "direct warping," lets you wind the warp and thread the heddle at the same time….think -create-as-you-go!
This workshop will focus on how to warp and weave on the Rigid Heddle loom. Warping yarns will be provided which can also be used as weft or you can bring yarn from your stash.
The goals are to learn how to weave on a rigid heddle loom (even if you have never woven on anything before!), learn about yarn selection for future projects, and learn cloth design techniques so that you can create one-of-a-kind garments in your next workshop on sewing with handwovens.
Dates: March 2 and 3 (Sat. and Sun.), 2019, 9am – 3 pm
Location: Salt Fork Recreation Center, Homer Lake Forest Preserve
Workshop Leader: Cindy Ruesink is a native of western Pennsylvania and has lived in the Midwest the past 45 years. Her interest in fiber arts began in the early 1980's while living in Australia. After returning to Champaign-Urbana, she took spinning and weaving lessons from the C-U guild and worked for professional weavers: Marilee Hoffswell and Becky Grosser. She attended lots of conferences and workshops and began researching historic looms and weaving patterns. Five years ago, one of her students brought a modern Rigid Heddle loom to class and she began another chapter in her weaving career. She discovered the fun of working on the rigid heddle, especially weaving with her 3 granddaughters who sometimes even help her teach.
For more information please see class information
Spinning Retreat at Allerton Park
The Champaign-Urbana Spinners & Weavers Guild invites you to a Spinning Retreat with Sarah Anderson, author of The Spinner's Book of
Yarn Designs, at beautiful Allerton Park and Retreat Center near Monticello, Illinois. Come join us for an amazing opportunity to relax and
improve your spinning skills at the Mansion, as well as enjoy the formal gardens, grounds, and trails at Allerton.
Instructor: Fascinated by all things fiber since childhood, Sarah Anderson is the author of The Spinner's Book of Yarn Designs. She
has contributed to The All New Homespun Handknit book and Spin Off, Handwoven and Ply magazines. Sarah's enthusiasm for spinning techniques and constructions has driven her to create an extensive library of different yarn constructions that she loves to share with other spinners. She is a regular at Madrona and has taught at SOAR, Fibre East in England, Golden Gate Fiber Institute, CNCH, NWRSA's Spinner's conference, and for many guilds and shops. She has also filmed several videos with Interweave Press including "The Building Blocks of Spinning," "Power Spinning" and "Exotic Blends." Sarah lives, spins, knits and weaves in the Pacific Northwest with her husband in
a small house FULL of fiber, wheels and spindles.
Dates: Monday October 15 – Tuesday October 16, 2018
Location: Allerton Park & Retreat Center is located at 515 Old Timber Road, Monticello, IL 61856.
For more information please see class details.
Weaving Twills on 3-8 Shafts
Taught by Guild member Lisa McLane, students will will explore twill weaves using from 3 to 8 shafts. We'll talk about design considerations including sett, balancing/closing a pattern and when to use a floating selvedge. We'll also explore tips to make your weaving more efficient and comfortable.
Instructor: Lisa McLane has been weaving for 30 years in both professional and hobby settings. Production weaving gave her a grounding in efficient methods across the entire weaving process. Through seminars and personal experimentation, she has explored multiple weave structures and fiber types. Her focus is on fine yarns for clothing and block weaves. She enjoys integrating textiles into other crafts such as book binding and ceramics. She has taught beginning weaving at Parkland College and other classes in less formal settings.
Dates: Friday, April 20- Saturday, April 21, 2018
Location: 503 S. Country Fair Drive
Champaign Il 61821, above The Piano People
For more information see class details.